Karen's 60th Virtual Birthday Party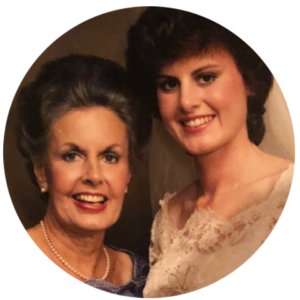 I have been asked by friends and family what I wanted to do for my 60th birthday. Many ideas floated around, plans were made, then plans had to change. All I could think about was that my mother wouldn't be there. She never made it to age 60.
Missing my mother has been a daily occurrence since we entered the month of May. Mom's birthday (5/5/1934), Mother's Day, my daughter's birthday and my birthday are celebrations that have spoken to my heart for decades.
These words beautifully summarized her:
AMAZING
LOVING
STRONG
HAPPY
SELFLESS
GRACEFUL
AMAZING ….a leader throughout her short lived life…Kentucky Colonels ABA Board member, color stylist business,Younger Woman's Club President and more!
LOVING …put love notes in my grade school lunchbox, made my favorite chocolate cake after a boyfriend broke my heart, sent a box of autumn leaves to my sorority house to remind us of a real Fall and more!
STRONG …keeping the family going when my father traveled so much, holding us tightly while telling us everything would be ok after the '73 tornado ripped through our neighborhood, showing no fear when difficult times came her way and more!
HAPPY …her infectious laugh heard above others as she was the last to leave parties, never was there a "happening" that wasn't celebrated with her gifted cooking talents. She kept joy going even when she had to navigate her creatively decorated walker in the later months and more!
SELFLESS ….as she would always remember her family and friends by leaving a rose from her rose garden on their doorstep, staying up all night typing my high school papers, always getting up with us in the morning and making us breakfast and more!
GRACEFUL…her exceptional beauty shown as she held my father's arm going to events, speaking before hundreds at meetings, sitting quietly under the tree in her lounge chair soaking up the sun and much more!
Missing you...Loving you, mom!
Born in Louisville KY, May 21, 1960 6:30am
Chenoweth Elementary
Ballard Junior High School
Kentucky Country Day High School
Southern Methodist University, Dallas, Tx
I have a younger brother, Donald Bryson Kurfees "Bryce". My mother, Billie Claire Pitzer was born 5/5/1934 in Louisville. Born to William Clair and Ruth Magee Pitzer. She died 11/4/85 from a 5 year battle with breast cancer. My father, Donald Bryson Kurfees was born 2/20/1933 in Louisville. I have a stepmother, Zee Kurfees with whom I am close, who lives in Lexington, KY. He passed away 10/26/2006 from surgery for esophageal cancer. My great grandfather J. F. Kurfees began the Kurfees Paint Company in 1897 in Louisville, KY. It was passed down to my grandfather James J. Kurfees "Frank" and subsequently to my father, Don Kurfees. We sold the business in the early 1990s.
My first job was working at the family company during summer vacations in high school and college. Once I graduated from SMU, I began working for Meidinger, now Mercer, in Dallas, TX. (A benefits consulting company) I came home in 1984 to work for the family company again as VP of Panoramic Paint Sales (Outdoor Paint line) and Customer Service for five years.
Enjoyed: travel, tennis, cooking, entertaining, arts and crafts, boating , water skiing and camping.
Activities in junior high and high school: yearbook, tennis team, basketball team, YoungLife, MYF church group, girl scouts, summer club swim team and tennis teams.
College Activities: Tridelt Sorority: Panhellenic Rep, Vice President, Pep Club, Business Fraternity
Met Don Buchanan on a blind date on August 10, 1984. We married August 3, 1985. Donald "Colby" Buchanan was born 7/15/1989. Clair Elizabeth Buchanan was born 5/17/91. We settled in Louisville after a few years in Boston where Don went to Harvard Business School. He passed on May 22, 2011.
Clair married Michael Kennedy in 2015 and they have my first grandchild Tatum "Tate" James Kennedy.
Colby lives in Nashville and works as a travel advisor.
I met my husband, Richard Meyer on Match.Com. We met for the first time on August 3, 2013. We married Nov. 5, 2016. He has four amazing children! Meggen (Husband-John, daughters: Kadence and Kennedy), Austin (Wife – Brittany, Daughters: Oaklyn and Marlowe), Presley (engaged to Taylor), and Blake.
We enjoy traveling, golf, boating, house flipping, college basketball and football.
I had various jobs through the years: I sold a clothing line called Doncaster for several years, I worked at the Norton Commons YMCA in membership and then got my real estate license in March, 2014. I have presently put my license in escrow.
I co-founded FHGR to mainly help widows and survivors of suicide and while it is a journey I would never choose, it has been very rewarding to walk beside people during their darkest days. With COVID-19 we are still serving grievers using ZOOM and via phone. Many would prefer to meet in person and that will happen again soon. Please consider donating to help us continue to serve people who are in need of grief mentoring and group therapy for unexpected loss.