 Welcome To Our Quarterly Newsletter!
Thank you for subscribing to the First Hour Grief Response Newsletter. In this fall newsletter, you will find helpful information for navigating your grief and helping loved ones through the holiday season.
Topics:
What Is EDMR?
Tips for Bystanders
Longer Nights
Suicide Walk, Saturday November 3rd
Navigating The Holidays
Eye Movement Desensitization and Reprocessing therapy is a form of psychotherapy that uses specific eye movements or hand-tapping (bilateral sensory input) while you recall the distressing images and situation that is causing you anxiety or PTSD. Many people we serve have engaged in this form of therapy and they find it to be effective in lessoning the negative feelings associated with a traumatic event such as the sudden loss of a loved one. EMDR requires multiple treatments and it doesn't work overnight.

Click here to learn more about this treatment option.
Give them a Hug
Most people who have lost a loved one agree that the most you can do for them is give them a big hug. Of course, you always want to ask permission to do this, as not everyone is ready for close contact. Make sure you hold them close for about 30 seconds and avoid the "back patting" that often happens when you want to release the person.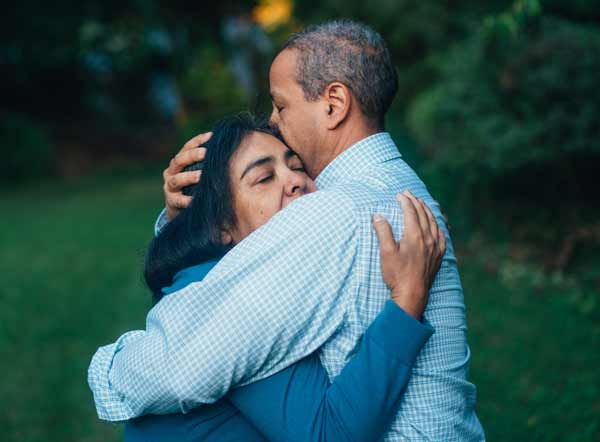 What to Say 
The best thing you can say to a person is, "I am so sorry for your loss." Or, "I really don't know what to say in this situation. I am so sorry." Truth is, there really are no words to help someone who just lost a loved one.
What NOT to Say 
Avoid phrases like the following:
"He's/She's in a better place."
"People have been through worse."
"If my child died, I would be happy to know he/she is in heaven."
"At least you have other children."
"You'll find love again. It won't be long."
"You have to be strong."
"Everything happens for a reason."
"I know how you feel."
"God never gives you more than you can handle."
"You need to stop feeling sorry for yourself and move on."
"God needed him/her more than you do."
"It was her/his time."
Ask the person how they are today?
Grief is such a roller coaster and each day can be different. Grievers experience emotions such as anger, depression, anxiety, guilt, blame, hopelessness, fear, suicidal thoughts, feeling cheated, wanting to know why it happened and the list goes on. Once you ask how they are, just listen. Stay engaged in what they are saying.
You don't have to have any answers.
They just need to talk about how they are doing and trust that you really want to know and understand what is going on with them. You might tell them how sorry you are and that while you don't truly understand what they are going through, it sounds really difficult. And then check on them regularly. They may not always want to talk about it so don't feel offended if they don't answer your call or want to get together face to face. Or if they simply say, I can't talk about it right now, then switch topics. Avoid telling them too many happy things that are going on in your life right now. That can also trigger an emotional response as they just aren't prepared to listen to how great your life is when their life is so dark and heavy.
"Grief is like living two lives. One where you 'pretend' everything is alright, and the other is where your heart silently screams in pain."
This is the time of the year when we set our clocks ahead and lose that precious daylight. It makes for a much longer night for many, especially grieving widows. "The nights are the worst" is a phrase we often hear in spouse support groups. The remaining spouse is left to figure out what to do for dinner and how to entertain themselves into the evening.
Here are some tips on how to make the time change a bit easier:
1) Go to bed earlier in the winter. Make sure you get 8-9 hours of sleep. And get up earlier to get outside and enjoy the morning sunlight.
2) Avoid screen time for about an hour before bedtime. The blue and white lights trick your brain into thinking it's daylight, and by watching TV or spending time with your phone or computer, you are not allowing your brain to slow down in preparation for sleep.
3) Avoid caffeine after 2pm in the afternoon. While it's different for everyone, caffeine can last for hours following that cup of tea or coffee. And yes, that bite of chocolate after dinner also contains caffeine.
4) Find a friend or two and share a meal together a few times per week. If you're attending a spouse grief support group you will likely meet other men or women dealing with the same issue. They will probably welcome the idea of getting out together. Might even try getting a group together and scheduling a weekly meal.
5) Hop on the phone for a little while after dinner each night. Friends or family members will enjoy hearing from you and it's a great way to catch up with people you love.
6) Write a hand-written letter to someone you care about. It's becoming a lost art in many ways with the invention of email. And people love receiving a letter in the mail. For many, they become keepsakes.
7) Read a book. There are so many good books about grief that can be helpful. Here are some of our suggestions:
"I Wasn't Ready to Say Goodbye" by Brook Noel and Pamela Blair, PhD
"It's OK that You're Not OK" by Megan Devine and Mark Nepo
"The Widow's Guide to Healing" by Kristin Meekhoff and James Windell
"Grieving the Loss of Someone You Love: Daily Meditations" by Raymond R. Mitsch and Lynn Brookside
"Bearing the Unbearable: Love, Loss and the Heartbreaking Path of Grief" by Joanne Cacciatore and Jeffrey Rubin
"A Grace Disguised" by Jerry Sittser and Jerry L. Sittser
"Walking with God Through Pain and Suffering" by Timothy Keller
"Grieving Dads: To the Brink and Back" by Kelly Farley
"Option B" by Sheryl Sandberg and Adam Grant
"Proof of Heaven" by Eben Alexander
"To Heaven and Back" by Mary C Neal
"Heaven" by Randy Alcorn
8) Take a class in something that interests you. Here are some ideas:
• Cooking classes are a nice way to learn some new menu items and meal prep techniques.
• Try your hand on a pottery wheel. It's frequently a small group and lasts about 6-7 weeks.
• Take piano lessons. You can invest in a digital keyboard or find someone selling a used piano and enjoy making beautiful music at night.
• Try a yoga class. Most places offer beginner's yoga and it will help you relax and stretch out your body.
• Take a painting class. You can usually try it out one time with a friend and if it's something you enjoy, there are classes for beginners that last for several weeks.
• Join a Bible study group. These are usually offered during the evenings as well.
Suicide Walk on Saturday, November 3rd
Come walk with First Hour Grief Response for the "Out of the Darkness" Louisville Metro Walk in support of Suicide Prevention and Research on November 3rd at Waterfront Park North.
Hope to see you there. Click here to register and learn more.

The holidays will never be the same after you lose someone you love. Especially if it was an immediate family member. Many people completely abandon the traditions of the past and unapologetically do things differently the first few years after the loss. One woman told us that she couldn't stand the thought of being in the house over Christmas so she used the money she would have spent on gifts and took the family away from the house and all the memories.
They spent a few days on the beach just walking and listening to the waves. If you have been the host or hostess for family gatherings for many years, please consider allowing someone else to take over for a year or two. You're likely not in a position to handle all the pressure—on top of all the grief—and most people will understand that this is not the time to try to keep up the traditions of the past.
If you do attend a family gathering, make sure you park so you can leave without asking a few people to move their cars. That way you can slip away without bringing a lot of attention to yourself. Just quietly let the host or hostess know that you need to leave. If you have grieving children, make a special code with them so they know they, too, have an "exit strategy." Try to think of a way to honor your loved one. Even if you're just going to the family gathering for Thanksgiving, ask the people attending to say a favorite memory about the person that passed after you say the blessing. Or, create a place they can write down a favorite memory on a piece of paper and read them aloud after the meal. You might also consider leaving an empty seat at the table in memory of your loved one.
If it's Christmas, you might create a special tree in honor of your loved one and ask people to bring an ornament that person would have enjoyed. You can put it up year after year using these and other ornaments that you already have that remind you of them.
Other ideas for navigating the holidays include spending time serving people less fortunate than you are. One man told us he and his family took supplies to a shelter and served the Christmas meal instead of being at home where the reminders made it hurt so much. Light a candle and have a moment of silence during the meal in honor of your loved one. Give a framed photo of your loved one as a gift to people who also miss them.
Select a few items that belonged to your loved one and give them as gifts to friends and family members. Put up their stocking. One woman said it had been seven years since her son passed and she still places it on the mantle. "He's there in spirit with us."
Give yourself permission to feel sad during the holidays. Even cry in public. There will be triggers all around you and you may find yourself sobbing at the sight of your loved one's favorite food or a gift you think they would have enjoyed. The holidays are going to be hard. There is no doubt about it. Try to focus on the reason for the season. And just do what you feel like doing.